Upcoming Events
CAMPS / CLINICS / PROGRAMS
Success on the field requires hard work, dedication, and proper instruction. The following camps, clinics and programs are currently being offered to allow players to improve their skills in a variety of areas. Check back frequently for additonal programming offerings as the schedule will be updated throughout the course of the year.
---
CURRENT KEYSTONE STATE ACADEMY PROGRAM OFFERINGS
---
CURRENT PREP BASEBALL REPORT EVENT SCHEDULE
---
November 08, 2017
Elite Hitters Development Program ::
Date: Wednesday November 08, 2017
Time: 6:00 PM



ELITE HITTERS DEVELOPMENT PROGRAM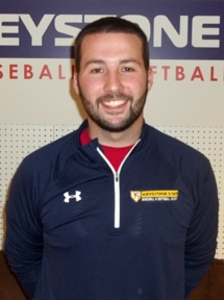 This is an exhaustive hitting program that runs during the months of November, December and January. The program is designed to assist the player in developing bat speed, improved swing mechanics, pitch recognition and an in-game hitting plan. Classes will meet twice per week for one hour sessions (10-18 year olds). Shaun Vernesoni will lead the instruction.
Contact Coach Vernesoni directly to reserve your spot at: vernesoni@keystonestatebaseball.com or by phone at 814-282-6691
10-13 Year Olds: $450
6:00-7:00 beginning November 6 and ending on January 17 - 16 sessions
14-18 Year Olds: $450
7:00-8:00 beginning November 6 and ending on January 17 - 16 sessions
Date(s): Nov 6, 8, 13, 15, 27, 29 Dec 4, 6, 11, 13, 18, 20 Jan 8, 10, 15, 17
Joel Buchko Catchers Camp ::
Date: Wednesday November 08, 2017
Time: 6:00 PM



Joel Buchko Catchers Camp

Buchko played collegiately for four years at Cecil College, a Junior College in Maryland, and at Palm Beach Atlantic University, an NCAA Division II program in the Sunshine State Conference. He was the starting catcher of the 2011 Junior College World Series team that finished 5th in the nation. Buchko received the ICAA Player of the Year in 2013 while playing in Florida. Currently he is finishing his degree in Early Childhood Education at Millersville University where he has been a student Assistant Coach the past two years working with the catchers, 1st basemen and hitters. Buchko has also been giving weekly catching and hitting lessons with players aged 6-18 over the past three years.
Camp Format

This is a four week camp that will run on consecutive Wednesdays from 6:00pm to 7:00pm beginning on October 25th. All participants have the ability to register for individual camp sessions at $40 per week or for the entire four week camp at a reduced rate of $130.
In order to pre-register for an individual session or for the entire four session camp players must contact coach Buchko directly at 717-606-3673 or by email at jwbuchko10@gmail.com .
Week One (October 25, 6:00pm-7:00pm)
- Warm-ups, conditioning, three stances, receiving with & without base runners, backing up first base
Week Two (November 1, 6:00pm-7:00pm)
- Warm-ups, conditioning, review stances and receiving, blocking and recovering
Week Three (November 8, 6:00pm-7:00pm)
- Warm-ups, conditioning, review stances and receiving, proper throwing techniques, throws to 2B/3B/1B
Week Four (November 15, 6:00pm-7:00pm)
- Warm-ups, conditioning, review throwing techniques, passed balls at plate, blocked third strike and throws to 1B, plays at the plate from infield and outfield
Cost
- Any individual session ($40); Full four week camp ($130)