Meet Our Staff
Meet the Keystone State Staff
Mailing Address:
662 Ditz Drive
Manheim, PA 17545

Phone: (717) 665-0901
Fax: (717) 665-0410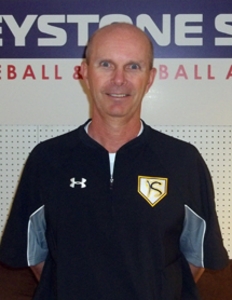 Greg Williams
Keystone State Baseball & Softball Academy
Owner / Executive Director
Baseball & Softball Instruction (Weekdays only 3:00pm - 5:00pm)
Prep Baseball Report
Pennsylvania / West Virgina Director of Scouting
williams@keystonestatebaseball.com
717-665-0901

Greg Williams is the acting Executive Director of Keystone State Baseball and Softball Academy. He began his role at Keystone State on October 1 of 2014 while also moving the offices of Prep Baseball Report to the 662 Ditz Drive location in Manheim, PA. Williams continues his role with Prep Baseball Report while also overseeing operations of the Academy and its employees.
Williams began as Pennsylvania's Director of Scouting in June of 2012 and oversees the day to day operations of PBR in the commonwealth. He was a four year starter in the outfield for Slippery Rock University, acting as the captain of the 1989 Division II third place team that won 42 games. Williams was an All-PSAC performer that season, was a member of the North Atlantic Regional All-Tournament Team and was named to the Division II World Series All-Tournament Team as well. He has spent the past 25 years involved in the game. Williams worked in the Houston Astros Organization, coached high school baseball in Florida and Pennsylvania, and most recently was a full time high school athletic administrator. During his tenure as the head coach at Meadville HS, Williams led the Bulldogs to a 66-35 overall record, and the only two District 10 Championships in school history in 2002 and 2003.
---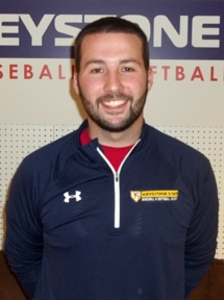 Shaun Vernesoni
Keystone State Baseball & Softball Academy
Independent Baseball/Softball Instructor
Prep Baseball Report
Central Pennsylvania Director of Scouting
vernesoni@keystonestatebaseball.com
814-282-6691
Shaun Vernesoni is the Director of the Keystone State Bombers travel baseball and softball program, overseeing 11 Bombers baseball and 2 Bombers softball teams. He is also the Director of Instruction at the Academy, specializing in hitting and defensive instruction. Vernesoni is also an area scout for Prep Baseball Report and the San Diego Padres.

He finished his college playing days in 2012 at Fairmont State University where he led catchers in all divisions of NCAA baseball in throwing efficiency for the that season. He had 35 assists on the season and threw out an impressive 21-of-32 runners trying to steal. He acted as the Team Captain at Fairmont State in each of the last two years and was named Team MVP following the 2012 season. Vernesoni also played at one of the premier junior colleges in the country (Calhoun Community College - Decatur, AL) as well as at West Virginia State during his college playing career.
He played his high school baseball in Northwestern Pennsylvania at Meadville High School and was a member of two District 10 championship teams while being coached by Greg Williams.
---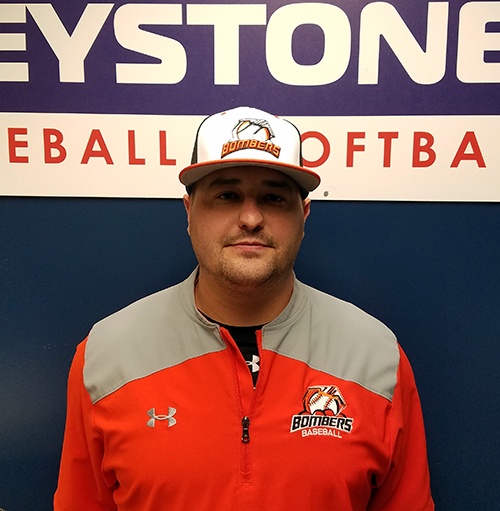 Joe Hruska
Keystone State Baseball & Softball Academy
Independent Baseball/Softball Instructor
Prep Baseball Report
Regional Scout
ksbombers@gmail.com
814-282-9329
Joe Hruska is the Assistant Director of the Keystone State Bombers travel baseball and softball program, overseeing 11 Bombers baseball and 2 Bombers softball teams. He is also a full time instructor at the Academy, specializing in hitting and defensive instruction. Hruska is also an area scout for Prep Baseball Report.

Hruska played his college baseball at Davis & Elkins College in West Virginia where he was a four year starter as a middle infielder. Prior to his college days Hruska excelled at Linesville High School leading the Lions to the PIAA Class A finals in his senior season.
Hruska coached high school baseball in Western Pennsylvania as well as American Legion baseball in West Virginia and Pennsylvania for more than a decade before making the move to Eastern Pennsylvania in the fall of 2017.
---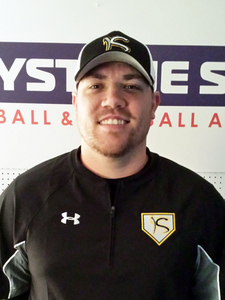 Kevin Leitzel
Keystone State Baseball & Softball Academy
Independent Baseball/Softball Instructor
Prep Baseball Report
Regional Scout
leitzel@keystonestatebaseball.com
570-259-1445
Kevin Leitzel joined the Keystone State Staff in November of 2014. Previously he spent four years as an assistant coach with the Bloomsburg University Huskies. In 2012 he helped guide the Huskies to 25 wins, the most by the program since 1999 and just the fourth time they reached that mark in the program's history. In 2014 he was part of a record breaking season for the Huskies which saw them break the program record for conference wins and secured the 2nd seed from the PSAC East. He has coached ten All-PSAC players including the 2013 and 2014 Freshman of the Year. Leitzel was the Recruiting Coordinator, 1st Base Coach, outfield coach and assisted Coach Collins with the Huskies' offense. The Huskies had a .300 team batting average in each of his three years and the outfielders improved upon their fielding percentage and outfield assists each season.
Leitzel spent the 2012 summer coaching the Licking County Settlers of the Great Lakes Collegiate League. He was the associate Head Coach and helped lead the Settlers to their first GLSCL Championship in organization history. He also had two players from that team selected in the 2013 MLB Draft. In addition to his coaching duties, Leitzel directed the Huskies' baseball camp programs. The Huskies offer a one-week summer camp as well as five clinics throughout the academic year. Leitzel joined the Huskies coaching staff after working for All-Star Baseball Academy in West Chester and serving one year as the varsity assistant at Line Mountain High School.
---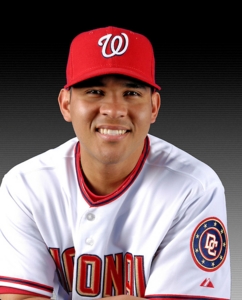 Melvin Dorta
Keystone State Baseball & Softball Academy
Independent Baseball Instructor
mad0382@gmail.com
717-383-2310

Melvin Dorta brings a wealth of playing, coaching and instruction background to Keystone State Academy. Melvin may be contacted directly by email or by phone.

Dorta was signed as a Free Agent by the Boston Red Sox as a 16 year old out of Venezuela in 1999. In 2001 he led the Gulf Coast League with a .408 average. Dorta was an Eastern League All-Star in 2005 (Harrisburg Senators) and in 2006 (Altoona Curve). In 2006 he led the Washington Nationals organization in steals with 36. Dorta was promoted from AA Harrisburg to the Washington Nationals in 2006. Following his playing career Dorta moved into coaching and most recently coached with the Harrisburg Senators in 2013 and 2014.
In addition to offering private, small group and team instruction, Melvin also heads the MAD Baseball travel organization that he began in 2015. A total of seven MAD baseball teams comprised of players from central and eastern Pennsylvania train during the winter at Keystone State Baseball Academy and participate in travel tournaments throughout Pennsylvania and the eastern United States during the spring, summer and fall.
Dorta specializes in hitting and infield defense instruction, but has a well rounded background instructing all areas of the game.
---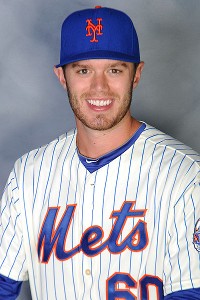 Darin Gorski
Keystone State Baseball & Softball Academy
Independent Baseball Pitching Instructor
717-201-9624
Gorski, a Donegal High School graduate, had his contract purchased this summer by the New York Mets, the organization he was drafted by in the seventh-round of the 2009 MLB draft. Gorski had played his first seven years of professional baseball in the Mets organization prior to begining the summer of 2016 with the Somerset Patriots.
The southpaw pitched with Triple-A Las Vegas in 2013, 2014 and 2015, including 27 starts with the 51's last year. The Mount Joy, Pennsylvania native made 11 starts with the Somerset Patriots this season, posting a 4-2 record with a 3.88 ERA. His 60.1 innings of work were second on the team, behind lefty Jeremy Horst, whose contract was purchased earlier in the season by Vaqueros Laguna of the Mexican League. Gorski made waves in the Mets organization in 2011, when he earned Florida State League Pitcher of the Year honors. That season, he posted an 11-3 record and led the league in ERA (2.08), WHIP (1.00) and finished third in strikeouts (140).
---
Tyler Orris
Keystone State Baseball & Softball Academy
Independent Baseball/Softball Instructor
tylerorris08@gmail.com
717-364-0151
After turning in arguably the most productive four-year career in Millersville baseball history, shortstop Tyler Orris was drafted by the Colorado Rockies in the 33rd round of of the 2016 MLB First Year Player Draft. In his first year of professional baseball Orris, a Cedar Cliff High School graduate, fielded 161 chances without committing an error at shortstop and second base for a perfect 1.000 fielding percentage.

It is no coincidence that the Marauders played in four consecutive NCAA Atlantic Regionals, won four consecutive PSAC East titles, a PSAC Championship and finished as the national runner-up during Orris' career. A consistent performer at the plate and with the glove, he started 224 games at shortstop, including 204 in a row at one point, and set six Millersville career records. Orris was the third Marauder chosen in the 2016 draft.

Orris was renowned for his leadership, work ethic and production while playing shortstop and hitting in the leadoff spot. In 2016, Orris hit .354 with a .459 on base percentage, drove in 43 runs, scored 64 and stole 32 bases. He finished his career with 101 steals, 198 runs and 275 hits--all Marauder records. Orris' defense was even more impressive. He totaled 665 assists, setting a PSAC record. His fielding percentage improved every season, finishing four seasons with a .965 mark. He committed just seven errors in 244 chances in 2016.

Orris was an All-Atlantic Region Second Team selection by the ABCA, D2CCA and NCBWA in 2016. He was also a two-time All-PSAC East selection. With Orris on the team, the Marauders went 177-52 and played in seven different championship games.
---
Chris Mattison
Keystone State Baseball & Softball Academy
Independent Baseball/Softball Instructor
chrismattison@centurylink.net
717-342-9283
Chris Mattison was selected in the 16th Round of the 2016 Major League Baseball First Year Player Draft by the San Diego Padres out of Southeastern University. The Lancaster Catholic High School graduate became the highest drafted player in Fire baseball history, and is the third player taken in the last four years.

During his lone season at SEU, Mattison was named First Team All-Sun Conference, hitting .398 with 19 doubles and 15 home runs. He earned a Gold Glove from the conference at first base, registering a .991 fielding percentage.

The Padres selected Mattison as a catcher. He also saw time on the mound as well as first base for the Fire.
---
Joel Buchko
Keystone State Baseball & Softball Academy
Independent Baseball/Softball Instructor
717-606-3673
Buchko played collegiately four four years at Cecil College, a Junior College in Maryland, and at Palm Beach Atlantic University, an NCAA Division II program in the Sunshine State Conference. He was the starting catcher of the 2011 Junior College World Series team that finished 5th in the nation. Buchko received the ICAA Player of the Year in 2013 while playing in Florida. Currently he is finishing his degree in Early Childhood Education at Millersville University where he has been a student Assistant Coach the past two years working with the catchers, 1st basemen and hitters. Buchko has also been giving weekly catching and hitting lessons with players aged 6-18 over the past two years.
---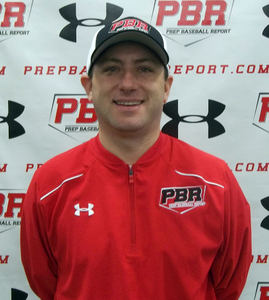 Jacob Gill
Keystone State Baseball & Softball Academy
Instructor / Showcase Director
Prep Baseball Report
Pennsylvania Assistant Director of Scouting
gill@prepbaseballreport.com
Jacob Gill joins PBR with seven years of collegiate coaching experience under his belt. For the 2009-2012 seasons, he served as the Recruiting Coordinator at Saint Joseph's University in Philadelphia. Gill mentored a number of Atlantic-10 All-Conference performers during his four years, while the 2012 team tied the program's single-season record for wins and reached the Atlantic-10 tournament for the first time in school history. His knowledge of the high school and travel baseball programs in the Philadelphia region is a welcome addition.
Gill spent the 2006-2008 campaigns at the University of Evansville in Evansville, IN. The 2006 squad won the school's first-ever regular-season and Missouri Valley Conference tournament championships, while Gill worked with the infield defense that heavily contributed to UE finishing with the twelfth best team fielding percentage (.975) in NCAA Division I.
Prior to entering collegiate coaching, Gill worked as an Associate Scout for the Kansas City Royals (2005) and a Baseball Operations Intern for the Cleveland Indians (2003). He also coached a Babe Ruth League team in Chicago for four summers ('01-'02, '04-'05) and guided the league all-star team to a seventh-place finish at the 2002 Babe Ruth World Series. During his college years,
Gill served as a Student Manager at Stanford University, during which time the team reached the College World Series three times.
---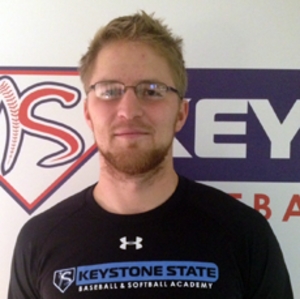 Mark Jones
Keystone State Baseball & Softball Academy
Independent Baseball Pitching Instructor
tootalljones43@gmail.com
Mark Jones is a 2009 graduate of Manheim Township High School. He played outfield and pitched for the Blue Streaks Varsity team for two years before signing to start his collegiate career at Cecil Community College in North East, MD. Prior to starting his collegiate baseball career, Mark was drafted in the 22nd round (671st overall) by the Houston Astros. He played two seasons with the Gulf Coast League Astros and one season with the Greeneville Astros.
Jones was named 1st team All-Star and 1st team All-State his senior year of high school. He was also named to the Gulf Coast League All-Star team in 2010. He was the pitching coach with the Keystone State Bombers 17U showcase travel baseball team in 2013, playing a hand in all 16 members of that year's roster making college baseball commitments.
---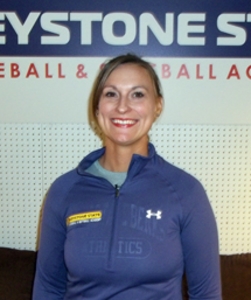 Kelly Sylvester
Keystone State Baseball & Softball Academy
Independent Softball Instructor
ksylvester@harford.edu
Coach Sylvester recently completed her first year as the Head Coach at Harford Community College in Bel Air, MD. Without the benefit of having an opportunity to recruit an incoming freshman class Sylvester led her team to a 12-26 finish including a 6-12 conference mark.
Sylvester spent the previous two years as Penn State-Berks assistant softball coach. In both seasons, Berks won the NEAC conference championship and competed in the NCAA Regional Tournament. Coach Sylvester primarily served as the pitcher, catcher and outfielder coach. The accomplishments of Berks' pitching staff included: two NEAC South Division Pitcher-of-the Year awards,16 shut-outs, including a perfect game with 11 strike-outs, and a collective ERA that ranked in the top 25% nationally.

Sylvester is a proud member of the National Fastpitch Coaches Association, and is a softball instructor at Keystone State Baseball and Softball Academy. She earned two Master of Education degrees (sports management and English) from Millersville University. Sylvester received a Bachelor of Arts in linguistics from Brooklyn College, and during her senior season, she was the pitch-calling catcher for a phenomenal lefty, Jaime Bellettini. Their pitching-catching synergy resulted in Bellettini's 2.24 ERA and ranking 2nd nationally in NCAA DIII for her 12.7 Strikeout Average per seven innings. After that 2006 season, Sylvester relocated from New York City to Lancaster County, Pa., where she currently resides.
---
Rich Pasquale
Keystone State Baseball & Softball Academy
Independent Hitting/Fielding Instructor
Rich Pasquale is currently an associate scout for the Baltimore Orioles and was most recently Youngstown State University head baseball coach from 2007-2012. Pasquale, the seventh coach in YSU history, came to Penguin Country after spending a season as the top assistant coach at Division II Slippery Rock. Prior to that he led a drastic turnaround at Division III La Roche College in Pittsburgh, Pa., and he was an assistant for three seasons at the University of Pittsburgh.
Pasquale got his coaching start at Penn State Beaver in 1995 and stayed there until 1999. As an infield and hitting coach, PSU Beaver appeared in the NJCAA Division III World Series in 1997 and 1999, and the team was the Region 20 Champions four times in his five years. Pasquale served as the acting athletic director, director of intramural and recreation sports and facilities coordinator at PSU Beaver.
Pasquale has also worked camps as an infield and hitting instructor at Clemson and Slippery Rock and spent the summer of 2013 as a coach with the Washington Wild Things in the Frontier League.
Pasquale has vast experience as an administrator. He was an Assistant to the Athletic Director and Compliance Officer at Slippery Rock, and he was the Facilities Manager of Jack Critchfield Park for the Slippery Rock Sliders of the Frontier League.
After playing at PSU Beaver for two seasons, Pasquale had a heralded playing career at Francis Marion University in Florence, S.C. As a senior he batted .322 with 52 runs scored in 47 games to earn NAIA Honorable Mention All-America honors. He was also a unanimous selection to the NAIA All-District and an All-Area honoree covering seven states as a senior.
---
Alex Barr
Keystone State Baseball & Softball Academy
Summer Intern / 2016
Alex Barr has been an integral part of the Millersville baseball program and its successes for the last three seasons, including 2 years as a pitcher and this last year as a coach.

Barr first arrived at Millersville as a pitcher in 2013 but an elbow surgery ended his playing career. Despite the medical difficulties, Barr remained a fixture within the program. Barr joined the coaching staff as a student assistant in 2016 and worked his way to the position of bullpen manager for the pitching staff. He has also built scouting reports and charted Millersville players' performances.

As a member of the coaching staff and player, Barr has been a part of some of Millersville's greatest on-field achievements. Since 2013, the Marauders have won three PSAC East titles, played in three NCAA Atlantic Regionals, appeared in the 2016 NCAA Division II World Series Championship, won the 2015 PSAC Championship and won the 2016 Regional Championship.

Barr is currently majoring in Business Marketing with a minor in Entrepreneurship at Millersville University. Alex is completing an internship during the summer of 2016 with Keystone State Academy as well as with Prep Baseball Report.
---
---
ADMINISTRATIVE STAFF
---
Julie Williams
Keystone State Baseball & Softball Academy
Director of Outside Programming
Prep Baseball Report
Event Coordinator and Videographer
julie.williams@keystonestatebaseball.com
Julie Williams, wife of Executive Director Greg Williams, is a career physical education teacher. She has her bachelor's and master's degrees in exercise science from Slippery Rock University. Julie spent three years as a Coordinator of Wellness at Leesburg Regional Hospital in Central Florida prior to moving into education. She brings 23 years of teaching and coaching experience with her to her new role at Keystone State Academy.
Julie coordinates the player check-in area at all Prep Baseball Report events, handles player profile photos and videos, and coordinates the distribution of scouting materials to all scouts in attendance.
---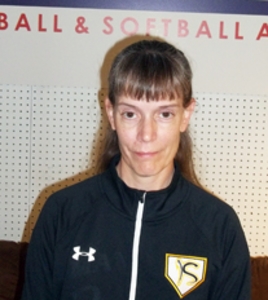 Ann Reiner
Keystone State Baseball & Softball Academy
Weekend Administrative Assistant